#ArtIsEverywhere: Brave Art Of Political Cartooning (My Mojarto Column)
By Dhiraj Singh
EVERY NATION HAS DEBATED the place of wit and humour in the telling of its story. Should it be there? Or how much should it be? The good part however has been that people in modern democracies have often found ways of disrupting this tendency for uber-nationalism. Some of these disruptors we today recognize and admire as the bravest of brave. As they stood up to political parties and their autocratic leaders who wanted to shoehorn an argumentative and active democracy such as India into a monochrome nation.

A WAX MODEL OF R.K. LAXMAN (LEFT) & OUTER FAÇADE OF THE MUSEUM
R.K. Laxman was one such disruptor whose cartoons captured the public's mood with such virtuosity that he literally became a household name, as he eviscerated jumlas and government orders to lay them bare for everybody to see their real intent. Laxman's all-seeing-but-never-speaking Common Man became a witness to all that was going on in the name of public good but was far from it.
Events such as the National Emergency of 1975 or its subsequent 'Ayaram-Gayaram' brand of politics that entailed leaving and entering parties for personal gains gave Laxman's cartoons just that necessary edge of greatness that few cartoonists since have been able to match up to. In his own cheeky way Laxman spoke truth to power that was the envy of many editors of his time.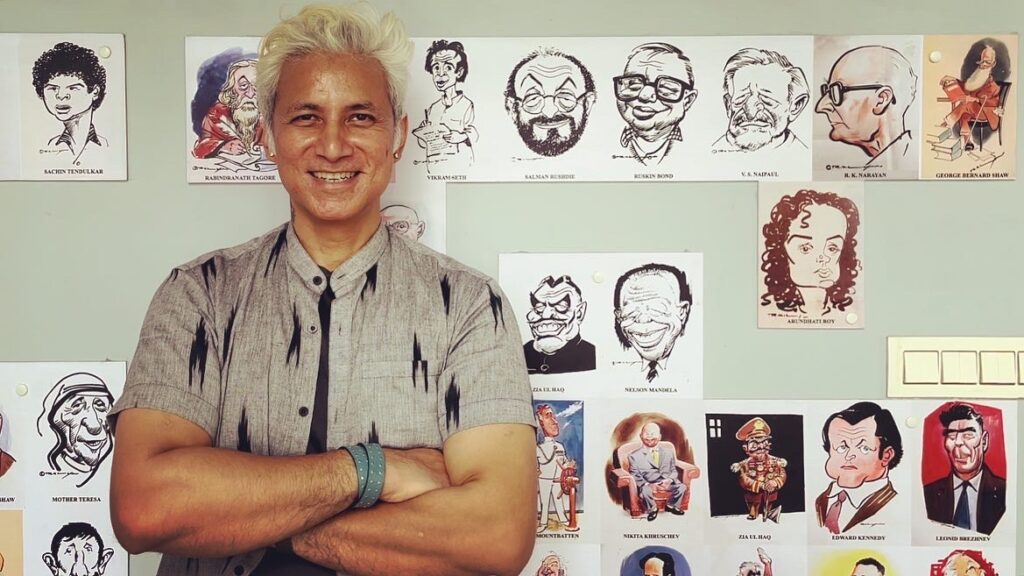 THE AUTHOR IN FRONT OF LAXMAN'S WALL OF WRITERS
Pune, the city where he breathed his last, has paid him a gallant tribute by opening last November a museum that showcases the brave art of R. K. Laxman—from the beginning as a somewhat disinterested baby brother of R.K. Narayan, the writer, into a passionate artist wanting to enroll at the highly-aspirational Sir J.J. School of Art. Though that dream was not to be, as Laxman's application was rejected by the School strangely on grounds of lacking in talent but it proved to be a definite turning point in his life.
Turning points are important for artists as they break the tedium of conditioning and make them see what amazing things can be made possible by their talent. The rejection from J. J. School put Laxman on a path of discovering the closet satirist in him. An observer of human nature and its most exalted laboratory that is politics, Laxman has drawn deep and indelible lines that connect Indians to each other like no other cartoonist has.

A SELF-SKETCH WITH THE COMMON MAN (LEFT) & A MODEL OF R.K. NARAYAN'S MALGUDI THAT LAXMAN ILLUSTRATED
His Common Man sits atop the Museum complex like an uncommon king—undistinguished yet unforgettable. Usha Laxman, the daughter-in-law who is Director and curator-in-chief of this enterprise hopes to keep alive Laxman's legacy in a time where humour—especially political humour—has all but disappeared much like the 2000-rupee note.
The Museum has the best picks from Laxman's more than six decades of cartooning, with caricatures of all Prime Ministers of whom Nehru was his favourite and who once asked him why his cartoons showed him without his topi. The Museum is a veritable Pantheon where only the Common Man gets a pedestal while the gods run for cover.
Dhiraj Singh is a well-known journalist, author, artist and TV personality whose latest novel 'MASTER O' is a sci-fi political thriller. He is currently Director, School of Media & Communication & The Idea Lab, MIT-World Peace University
Read article in original HERE